Shoto VRLA Battery for Hong Kong Data Centre
By 18 Oct 2020, the battery supply for a global renowned data centre in Junk Bay of Hong Kong was completed by Shoto and 3Tech professional team. Shoto is a leading manufacturer of green energy storage in the era of big data. As the distributor of Shoto, 3Tech delivered over 5000 units of VRLA batteries for the UPS system of the data centre which including 4,928 units 12V 200Ah each and 168 units of 12V 100Ah.
Like all data centre project, the construction period and delivery are very tight. All batteries delivery was originally planned to be completed in two months' time. Unfortunately, the second wave of the Covid-19 forced the Fire Service Department inspector not able to attend site inspection to confirm the battery room comply with the regulation before battery delivery. With the tight construction period and limit of site storage space and statutory limitation, each of the ten shipments can only be confirmed within less than 48 hours for all logistic arrangement.
Each of the ten deliveries was a logistic challenge. There was only a small time slot allocated for site offload and delivery to battery rooms due to various equipment delivery to such a large data centre at the same time. The Covid-19 imposed further potential delay such as congestion at the border for driver virus sample testing.
Special packing of cardboard was adopted due to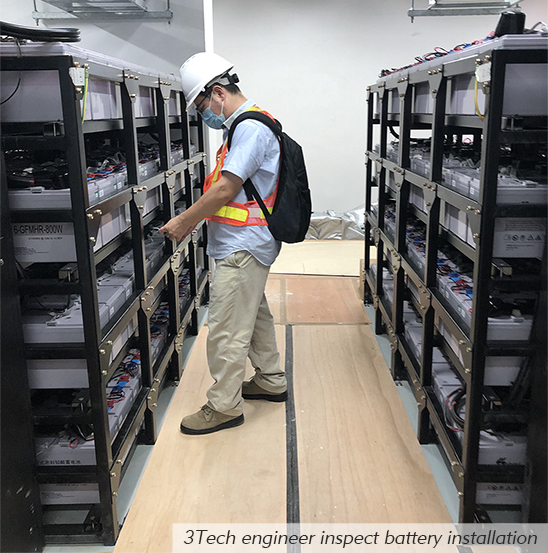 recycling limitation in Hong Kong. However, the protection is not as good as standard wooden packing which impose additional challenge to the transportation and replenishing damages during delivery.
With the battery plantroom delay, the last three shipments were also affected by the National day holiday that was not in original plan. Shoto and 3Tech had to provide additional production and logistic resources during the period to ensure the shipment meeting the site requirement. Moreover, the epidemic situation worsen in Hong Kong during the period. The changing border policy made the transportation even harder.