Philippine large capacity DC power systems
Before end of 2021, 3Tech delivered 18 sets of large capacity (5000A and 6000A) 48V DC power systems to a Pilipino Teleco company to be installed in their major facilities in Manila. Some of them are used in data centre for large scale external data communication while others are installed in their telephone exchange centre. This was in addition to another 36 smaller capacity upto 1500A order received earlier.
Among the 18 sets DC power systems, three of them were 6000A while the balance systems were 5000A.
LionRock EC1030R30 rectifier system is a large capacity DC power system with 60 units of 3kW rectifier modules to deliver 3000A in a standard single cabinet. Thanks to the original modular design, two cabinets can be connected in parallel to increase the capacity.
Each 5000A system consists of three DC distribution boards each rated 2000A and one AC incoming distribution board as well as two EC1030R30 rectifier cabinets.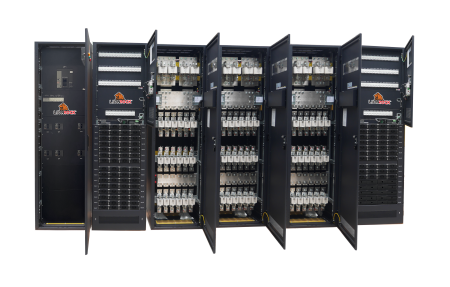 Unfortunately, the current system controller can only communicate with upto 100 rectifiers at the same time which limited the output to 5000A if 3kW rectifier modules are used.
In order to solve the issue, 6kW rectifier modules were introduced and used in this project. With a revised socket module design, each EC1030R30 DC power system can accommodate 30 units of 6kW rectifier modules to achieve the 3000A capacity in each standard size cabinet. Two of them in parallel achieved the required 6000A capacity. The standard system controller can work with 60 rectifier modules without any problem.
As the 6kW module needs higher 400V phase voltage input for better efficiency, a revised AC incoming board is designed to accommodate the 460V on site voltage available.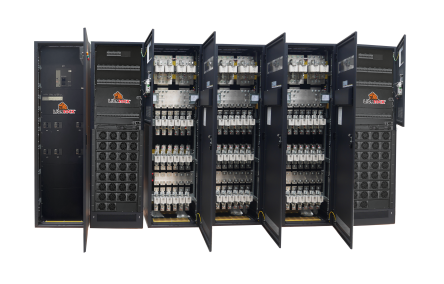 The R&D team worked closely with customers and finalised the design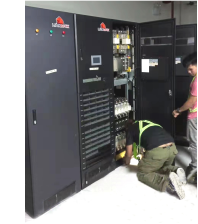 to customer satisfaction within two months. Customers also needed to update their local infrastructure to cope with the power requirement.
This established the strong foundation for LionRock large capacity DC power system to next stage of 9,000 to 10,000A capacity and demonstrated our strong in-house technical capability to build any systems to meet customer requirement in a short time.